23.06.2022
In the world of sleep medicine, there is an apparent need to understand sleep disordered breathing in more detail and for new diagnostic paradigms to alleviate the dependency on a single indicator, the AHI. The team at Nox Medical has led innovation in this space by introducing* the Nox Self-Applied Somnography™ (Nox SAS), an at-home, self-applied device created to derive the same quality and quantity of data as an in-lab PSG study. But how else can the industry go beyond the AHI?
This was the main message behind a satellite symposium sponsored by Nox Medical at this year's World Sleep Congress in Rome, Italy. Titled "Beyond the AHI," the session featured three guest speakers and explored new approaches to sleep diagnostics and how the industry can continue to evolve sleep medicine. Professor Carolina Lombardi, PhD, introduced the symposium and set the stage for the discussion around the people, products and processes behind the advancement of sleep diagnostics. It is well known that obstructive sleep apnea (OSA) is a risk factor for cardiovascular complications such as stroke, heart disease and hypertension.
"We have a lot of data about the importance of obstructive sleep apnea as a determinant of higher mortality in the general population."
She continues to explain that all the literature is based on the AHI apnea-hypopnea index, and the industry still has many unsolved issues such as clarifying the relationship between cardiovascular diseases and OSA.
Self-Applied Somnography: Next Generation of Sleep Studies?
Sleep disorders are on the rise as the industry's capacity to diagnose and treat patients through in-lab PSG studies is at an all-time low, especially post-pandemic. PSG studies also come with a lofty price tag and are time-consuming. So what's the solution? Martina Große Sundrop, MD, from the Center for Sleep and Telemedicine, addressed the landscape of current diagnostic standards and consumer-facing alternatives — whether accurate or not — to traditional in-lab PSG studies.
"We're living in a time of self-tracking," said Sundrop in reference to emerging sleep sensing technology alternatives like ultrasound, smart watches, RF sensors, etc. "We're facing a disruptive challenge in sleep medicine because most of these sensors aren't certified medical products and very few are validated against the standard PSG. Maybe we instead need to look at this from a PSG perspective and bring the sleep lab home to make it more accessible. This is what Nox Medical is doing with the Self-Applied Somnography (Nox SAS)."
The Nox SAS, which is still in the research phase, allows patients to self-apply and perform an at-home PSG study. Early research shows promising results regarding sleep staging compared to a PSG (88.7% overall percent agreement across all stages), and it could be a feasible and approachable way to gather quality data from larger patient populations to utilize in epidemiological studies. Sundrop notes further validation studies for both sensors and the Nox SAS are needed, but "this (the Nox SAS) could be a good first step in getting PSG-equivalent data, and we could also use it to validate the sensors or to speed up the diagnostic process."
The Sleep Revolution
Dr. Erna Sif Arnardóttir, Director of the Reykjavik University of Sleep Institute, gave an overview of the Sleep Revolution, an interdisciplinary research and development project sponsored by the EU to help dramatically advance sleep medicine. The project was licensed in 2020 and started in March 2021, and the group comprises universities and hospitals, the European Sleep Apnea Database (ESADA) Network, industry partners such as Nox Medical, expert societies and sponsors.
Dr. Arnardottir walked through The Sleep Revolution's four aims to revolutionize the industry:
Transform current diagnostic methods for sleep-disordered breathing

Bring advanced sleep diagnostics from hospital into patient's home

Promote participatory health care with technological studies

Develop different personalized treatment options for sleep disordered breathing patients
A solid foundation of the Sleep Revolution is built among the international group of collaborators, and the remaining three years of the project will bear fruitful insights and research to benefit the industry as whole.
Endotypes from PSG
Eysteinn Finnsson, a member of the Nox Research by Nox Medical team, concluded the symposium with an exploration of OSA endotypes from PSG studies. The four OSA endotypes of collapsibility, muscle compensation, chemoreflex loop gain and arousal threshold are the pathophysiological mechanisms that lead to unstable and/or obstructive breathing patterns. These traits can be used to diagnose OSA with more precision which has implications for personalized treatment of OSA.
"The traits causing sleep apnea are revealed in the pattern of breathing, and we're able to generate these endotypes from a clinical PSG," said Finnsson.
He went on to explain how Nox is independently validating this type of endotyping and early findings suggest high performance and scalability improvements. Deriving OSA endotypes from PSG depends on accurate and unbiased measures of ventilation.
"We have seen that the nasal cannula can be unreliable in the presence of intermittent oral ventilation, however, a ventilation signal that is independent of the breathing route can be accurately derived from the Respiratory Inductance Plethysmography (RIP) belts," concluded Finnsson.
This improved ventilation signal, generated from respiratory movements, could be used to improve accuracy of ventilation measurements in clinical sleep studies where gold standard oronasal measures of ventilation are not available. The patterns identified in the ventilation signal are then used to generate OSA endotypes and help guide different treatment options.
Nox Medical is dedicated to continuing the advancement of sleep medicine through its product offering, research and championing industry collaborations such as the Beyond the AHI symposium.
* Nox SAS is for research purposes only
.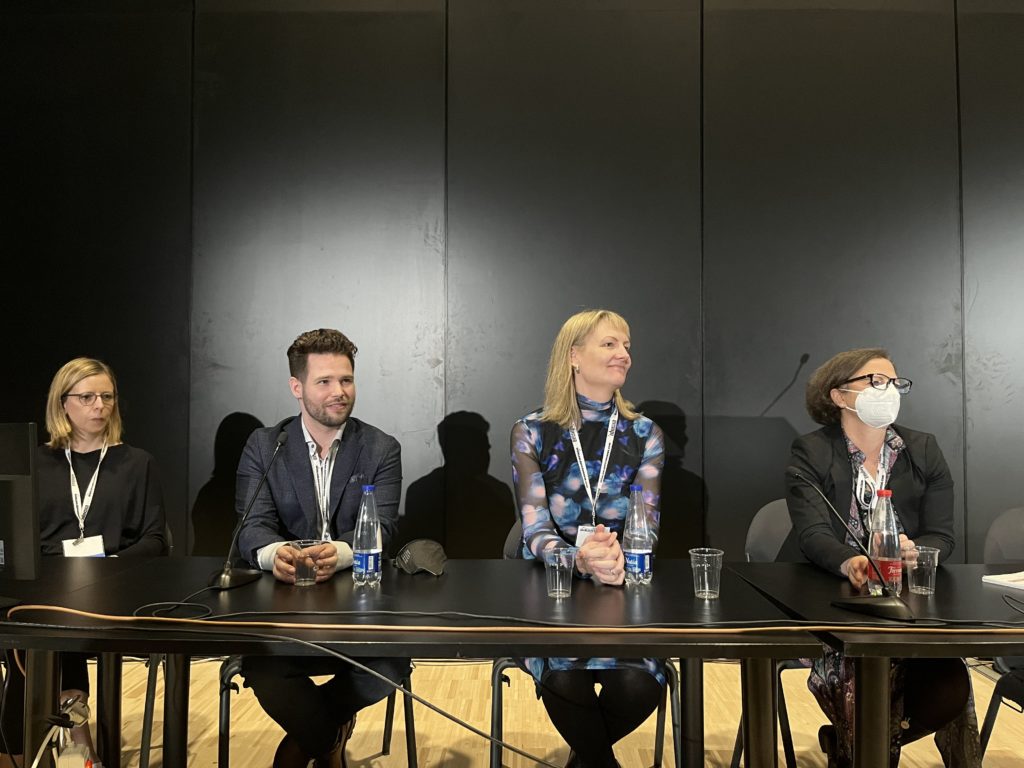 Nox Medical's symposium speakers (left to right): Martina Große Sundrop, MD, Eysteinn Finnsson, Erna Arnarsdóttir, Ph.D., Carolina Lombardi, Ph.D.
Topic: Events