08.07.2021
In a recent article published by Sleep Review, Dr. Jon Agustsson, Director of Analysis, Data, and Research at Nox Medical, contributed his insight on today's AI-powered technologies and how Nox Medical is a key player in advancing the science. The following article recaps and dives deeper into his insight on the past, present and future of how Nox Medical, along with its like-minded industry partners, is working to transform the diagnosis and treatment of sleep-disordered breathing.
Nox Medical's Evolution of AI and Machine Learning
AI and machine learning are a part of Nox Medical's DNA and are ingrained in the company's mission to improve health by improving sleep diagnostics.
"We feel it is a huge responsibility to introduce AI and machine learning models to our medical products, since these models may have a substantial impact on patient outcomes. Therefore, we approach the task with the mindset of delivering best-in-class safety standards and effectiveness in our products. This includes going above and beyond in our efforts to validate our products", said Dr. Agustsson.
The research team at Nox Medical uses data from new sources and even new countries to validate their AI algorithms. This is an important step in the validation process as this indicates how the AI model will perform in the real world when it encounters data from sources it has not encountered before.
"This is one step beyond what is done in AI development where the validation is carried out on a hidden test set, which is typically a randomly generated sample drawn from the same sources as the training data," said Dr. Agustsson. He goes on to say, "To understand the progress Nox Medical has made in AI and machine learning, you must first know how our research and development efforts have evolved."
Traditionally, sleep studies have been scored manually and are still a common practice by today's standards.  In 2015, the Nox Medical team was tasked with developing a new, automated analysis for scoring sleep stages. Around the same time, Google released and maintained a program called TensorFlow, which is a machine learning library that still remains the most commonly used library in AI and machine learning products today. By leveraging TensorFlow and internal expertise, the team sought out to develop new AI and machine learning tools.
"We started by classifying sleep stages based on EEG data," said Dr. Agustsson. "Scoring sleep stages is the simplest task one can do with AI in sleep medicine, not because it is easy, but rather because it is so well defined. We know we have to classify each 30-second epoch into one of five classes, what signals to use and what features in the signals are of importance."
Dr. Agustsson explained human experts generally agree on the scoring, evoking trust in the model to learn from it. There is also a considerable amount of literature available comparing how human experts agree on the scoring to reference when measuring performance or how well an algorithm needs to perform to be useful.
"Once we had established a solid foundation to develop AI products to perform standard tasks in sleep medicine, we could start thinking about novel approaches, such as the Nox BodySleep*," said Dr. Agustsson.
The Nox BodySleep – Sleep Time Estimation Without EEG
The Nox BodySleep™ is a novel and clinically validated method that uses an AI algorithm to analyze respiratory and activity signals to estimate the sleep states of wake, REM and NREM for more accurate Apnea-Hypopnea Index (AHI) estimation by including an estimate of sleep epochs and the total sleep time.
"When you start doing something new like this (the Nox BodySleep), you have to be extra careful that the results you get in the lab can be replicated in the real world," said Dr. Agustsson. "We knew that to be successful in AI and machine learning, we had to have access to a lot of data to validate the performance of our models and to make sure we are as certain as we can be that it will fare well with various patient populations."
For the Nox BodySleep, Nox Medical had an external lab validate the algorithm using their own resources to establish confidence in the product. Today, Nox Medical's AI and machine learning program is twofold with an overarching goal of improving patient care and long-term health by developing and researching models that are both novel and innovative. One aspect aims to automate tasks typically done manually, such as scoring sleep stages or arousals using EEG data. The other, and arguably the most important, is to develop novel methods to extract information from sleep studies.
Research Collaborations
Since 2015, Nox Medical has submitted to industry competitions and collaborated on several research projects to validate its products and to establish access to extensive data. The company reached a major milestone and placed second in global competition by PhysioNet.org in 2018 and has since then built on the processes to detect cortical arousals. In addition, Nox Medical continues to collaborate on research projects with prestigious domestic and international universities such as Harvard Medical School and is an active participant in the Sleep Revolution, an interdisciplinary research and development project among nearly 40 international partners.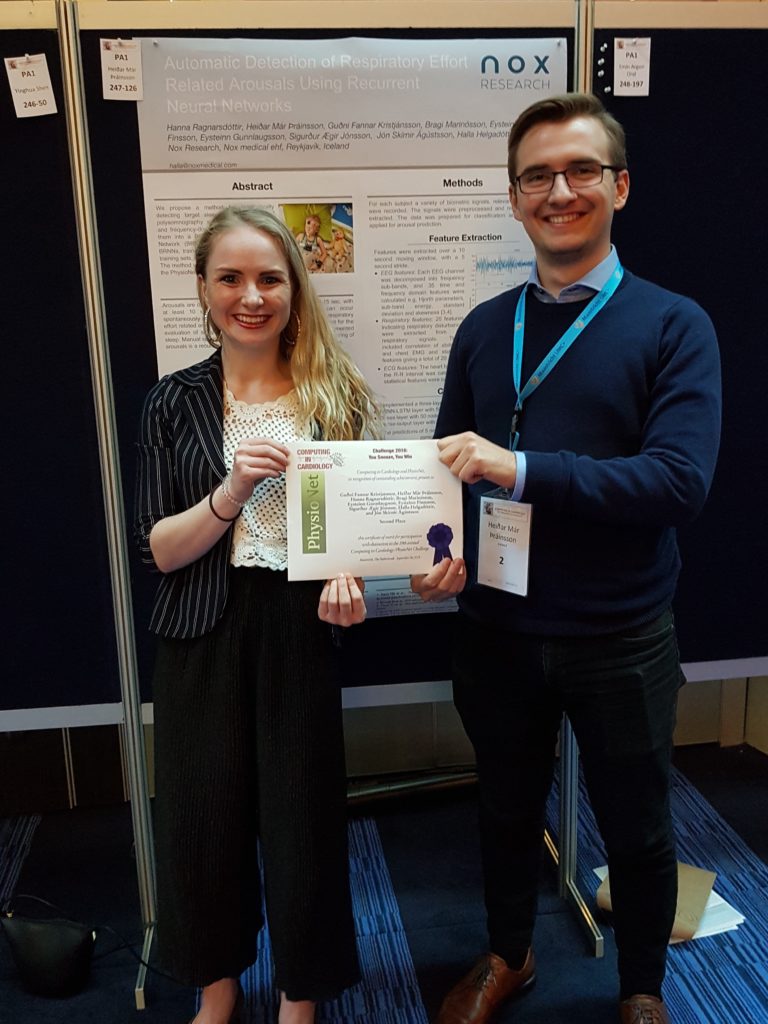 The Future of AI and Machine Learning
AI-powered diagnostics and follow up yield promising benefits for the future of the sleep industry. Dr. Agustsson said,
"We predict the patient will reap the biggest benefits from AI-powered diagnostics. AI-based tools offer more automation, affording physicians and technicians the gift of time — meaning more quality face time with their patients and allowing them to spend more time analyzing rare or difficult cases to provide better and more personalized treatment. By lowering the cost of data collection and analysis, more structured assessment of treatment effectiveness can be done allowing physicians to intervene when treatment is not providing the patient with the full benefit."
AI-based tools will also provide more efficiency and standardization for hospitals and healthcare systems without requiring a vast lift in resources. When standardization increases, all post-processing, reviewing, and other data tasks become simpler and more consistent. AI and machine learning will remain at the forefront of Nox Medical's future research and product development.
However, Dr. Agustsson predicts "the advancements will not replace sleep physicians or technicians, but rather, sleep physicians and technicians will be what we like to call 'AI-boosted humans.' Meaning, these advancements will amplify their ability to analyze data, diagnose disorders and treat patients effectively. To be successful, in my opinion, we need to have a very deep understanding of the tools that we are using, the subject matter, the data, the signals and the questions we want to answer. We also need to understand how our models are going to be used in real life. Great collaboration between physicians, technicians, scientists, engineers and other stakeholders is the key to reach these ambitious goals."
Dr. Agustsson points out three key focus areas as Nox Medical works to research and develop new AI and machine learning tools.
"First and foremost, we're actively and continuously performing clinical validation, working with regulatory bodies and consulting with industry stakeholders to make sure our products are safe and effective for patients," said Dr. Agustsson, "It's important that we also provide the users with methods of understanding these automated AI analyses to determine why a certain patient has a certain outcome." Part of this is preparing the user to be confident in the model outcomes and to understand why the model says what it says, rather than taking the results for face value."
Dr. Agustsson went on to say, "Our AI models are only as good as our data. Therefore, another focus area is to continually improve on our measurement technology to produce more accurate data. Similarly, we're also focused on collecting diverse data sets so our AI and machine learning products are representative of various patient populations in the real world."
"Lastly, we're always focused on how our products can improve the patient journey, and Nox BodySleep and endo-phenotyping are examples of how we can improve the patient journey by extracting more information from sleep studies" said Dr. Agustsson. "We see many opportunities to use AI to elevate the patient experience, personalize treatment and detect potential health issues sooner rather than later. "AI in itself will not improve how we diagnose and treat patients," continued Dr. Agustsson, "Rather, human scientists, physicians and sleep technologists will push the science forward by leveraging AI as one tool among many to advance sleep medicine."
*The Nox BodySleep is not available in the United States
Topic: Research & Publications