13.05.2020
A powerful in-lab PSG sleep diagnostic device, the Nox A1 has ability to also work as a home sleep test.
The United States is seeing growth in the awareness of sleep health and the demand for sleep studies continues to expand, but as reimbursement becomes more of a challenge, medical providers are increasingly looking to invest in home sleep tests as a cost-effective solution.
With the dual-purpose, diagnostic sleep device, Nox A1, sleep medicine clinicians no longer have to decide between investing in polysomnogram (PSG) systems and home sleep tests (HST). The Nox A1, launched in 2014, can serve both of these purposes, all in a small package.
Now available to providers in the U.S., this Hospital-to-Home PSG System (H2H), is built with the same diagnostic hardware as the Nox T3, but comes with increased versatility. Nox Medical launched the Nox T3 Sleep Monitor in 2009 to help medical professionals perform simple, but accurate home sleep tests. Patients who are recorded with the Nox T3 can be put on treatment immediately following the diagnostic study. Since 2009, thousands of units have been sold globally. Each year, almost a million patients are estimated to undergo a Nox T3 recording.
Born from this earlier success, the new H2H system, Nox A1 PSG System, is a more evolved solution, able to perform level I, level II, and level III sleep studies to test and diagnose more diverse patient populations.
A Smooth, User-friendly Experience
Designed for an easy hookup experience for clinicians, as well as a restful night's sleep for patients, the system is wireless. Patients are free to roam throughout the night, go to the bathroom, or get a sip of water. The cables are minimized and customized, so that the patients are not tethered to the bed.
"The patient is always the center of the focus when design decisions have been made," says Valgeir Tómasson, product manager at Nox Medical.
Traditional PSG systems do not have wireless cable design, so if a patient needs to go to the bathroom, a sleep tech must help untie the patient and then hook the patient up again to continue the test. In this scenario, there are usually two patients per sleep tech in an in-lab setting. With this wireless cable design, a sleep tech may be able to attend to more patients at once.
Streamlined Workflow with Integrated Tools
The Nox A1 comes with the Noxturnal software, a multi-function platform in which clinicians control the setup of the study, choose the type of study to run, and have continuous impedance control.
By using the Noxtural software and application, sleep techs working in in-lab settings no longer need to run back and forth from the patient to the computer room to check for signal quality and fix bad connections. A portable tablet allows a clinician to conduct tasks like biocalibration and signal check at the patient's bedside during hookup, instead of running these from a remote-control room and relying on video/intercom. This way, the clinician receives immediate feedback on signal quality and does not need to spend time running back and forth for signal checking.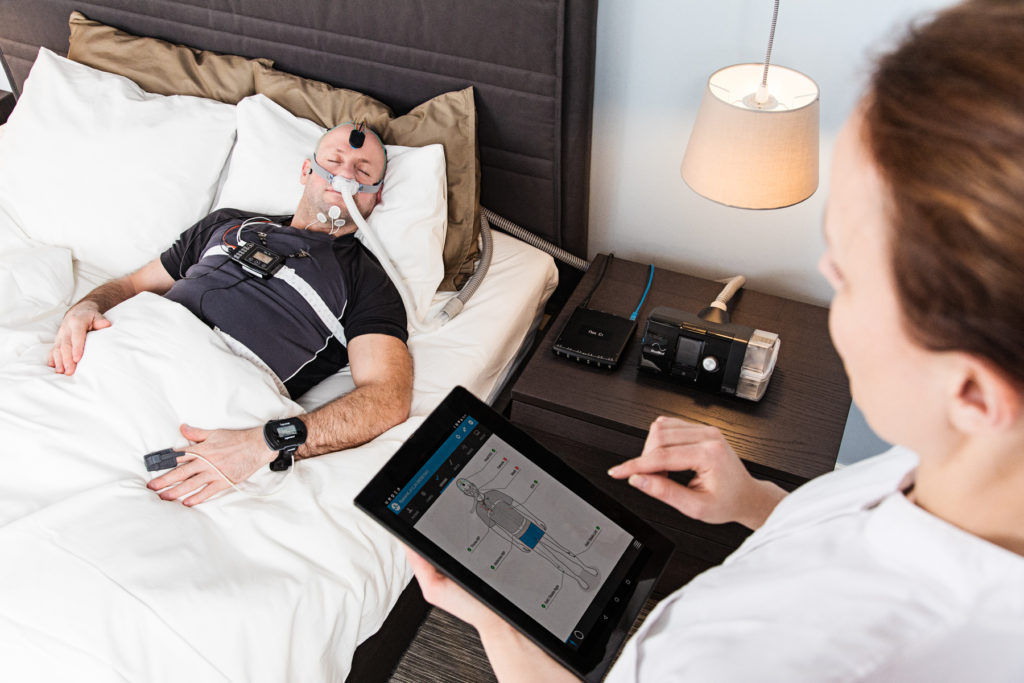 After a night of sleep, the Noxturnal software may be used to automatically analyze respiration signals and sleep stages. In multiple published papers, the system has shown a strong correlation between the respiratory scoring algorithm and manually scored apnea-hypopnea index (AHI). One paper, published in Sleep and Breathing, found that an accurate scoring algorithm can reduce technologist scoring time while saving on related costs. The research also demonstrated that the Noxturnal autoscore algorithm was accurate compared to manual scoring.
"The Noxturnal software is the centerpiece of the Nox A1 PSG system," says Tómasson. "It really supports the great flexibility of the system."
A Comfortable Sleep Test with More Diagnostic Data Points
The Nox RIP (respiratory inductance plethysmography) belts fit snugly, but not too tight, seamlessly measuring respiratory effort through chest wall and abdominal muscle movements.
The system generates an accurate calibrated RIP flow, a metric that is useful as a back-up signal if the primary nasal cannula signal fails or is unreliable because of mouth breathing. The Nox RIP flow from the thorax and abdominal belt can be used as an alternative for scoring apneas and hypopneas, according to a paper in the Journal of Clinical Sleep Medicine. 
Accurate Results In-Lab and At Home
The Nox A1 system has advanced ambulatory capabilities. As demonstrated in research published in the peer-reviewed journal Sleep and Biological Rhythms, the system can be used effectively in patients' homes.
Researchers from the Seoul National University Hospital found that there was no difference in sleep efficiency, arousal index, or time spent in each sleep stage between subjects monitored with an in-lab Nox A1 versus those who used the Nox A1 at home1.
Additionally, other respiratory parameters such as apnea–hypopnea index (AHI), supine AHI, and snoring time did not differ. The researchers found that patients in both groups had similar sensor quality for airflow, oxygen, and respiratory effort.
"These results suggest that Nox A1 home sleep monitoring without continuous supervision was feasible for all our patients," the authors wrote.
"Unattended sleep monitoring with the type 2 ambulatory device can be performed in the patient's home with reliable quality recordings and high patient satisfaction, which is comparable to in-laboratory PSG with overnight supervision," the authors concluded.
No bigger than the size of the average smartphone, the Nox A1 device is clipped onto the front collar of the patient's shirt in preparation for the study. A small microphone is incorporated into the device to capture the sound of any snoring. A Bluetooth-enabled Nonin oximeter is strapped to the patients' wrist with an adjustable band.
Now Available in the United States
Now available for purchase in the U.S. and Canada, the Nox A1 offers extended flexibility to help medical providers deliver accurate diagnoses, whether it being in ambulatory or in-lab setting.
The Nox A1 is designed for an easy-hookup experience, both in hospitals and in patients' homes without compromising on patient comfort.
For more information on the Nox A1 PSG System and Nox Medical, please contact us.
See https://aasm.org/demand-for-treatment-of-sleep-illness-is-up-as-drowsy-americans-seek-help-for-potentially-dangerous-conditions/
Topic: Company Updates